Your financial life doesn't need to be complicated. It's our goal to help you take the complex and make it simple.
From retirement planning to investment strategies and more, hosts Mike MacKelvie and Valerie Escobar share need-to-know insights on finances and wealth that can help make Your Life Simplified.
Watch Our Latest Podcast Episodes
Each Thursday we dive into topics to help simplify your financial life.
Alternative Cash Flow from Structured Notes and Options
September 21, 2023
On this episode of Your Life Simplified, Michael MacKelvie , wealth advisor, is joined by special guest, Brett Kunshek...
Tune In
3 Things You Need to Know Before Moving Abroad
September 7, 2023
With flexibility and connectivity in today's world, many are excited by the idea of moving abroad and traveling; however,...
Tune In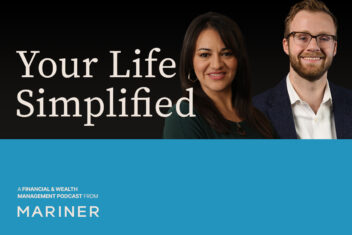 2023 Tax Planning Strategies
August 24, 2023
We may not be at the end of the year yet, but now is the time to start end-of-year...
Tune In
Meet Our Co-Hosts
Valerie Escobar
Valerie keeps her life simplified and balanced by practicing yoga and volunteering. The senior wealth advisor and CERTIFIED FINANCIAL PLANNER™ helps her clients cut through the complex by providing financial solutions based on their needs, goals and objectives. Her focus is on financial planning for families and individuals.
Mike MacKelvie
Mike finds his balance in reading, playing basketball and camping. The wealth advisor and CERTIFIED FINANCIAL PLANNER™ works with individuals and families to provide customized wealth management solutions to help them reach their goals and keep their lives simplified and enjoyable.
Are you subscribed to our YouTube channel?