Trust & Wealth Management Services
Realize Your Wishes & Protect What's Important
Whether you want to provide for minors, heirs, loved ones with disabilities or charitable causes, we can design trusts to help ensure your wishes are carried out. Trusts help protect your assets while giving you the flexibility to control and specify how those assets are distributed during your lifetime and to future generations.
Our trust professionals will collaborate with you, your advisor, your legal team, as well as our in-house tax team, to design your trust as part of an integrated wealth management plan. Your wealth advisor and trust team should review your trusts periodically to help ensure they continue to reflect your wishes, life changes, and keep current with any tax and legal changes.
Putting trusts in place can give you peace of mind, because they are designed to ensure your wishes for your beneficiaries and goals for your assets will be met.
Our trust management services may include:
Reviewing, designing and modifying trust documents to help ensure they reflect your wishes and protect your assets today and for future generations.
Structuring the trust, including setting up the trustee or co-trustees (e.g., family member or corporate third party) so the trustee can distribute your assets in a way that meets the trust's requirements.
Designing tax-efficient trusts that allow you to transfer assets out of your estate to help minimize your tax liability.
Titling of assets, such as stock or a home, into the trust for direct distribution to beneficiaries, versus via a public probate process, while helping to minimize potential family disputes over assets.
Managing charitable planning and gifting strategies that distribute your gifts to your favorite charities now or in the future.
Trust services provided by Mariner Trust Company ("MTC") an affiliate of Mariner Wealth Advisors. MTC is a state-chartered public trust company organized under the laws of South Dakota and serves to provide its customers with administrative trust services and other related services.
Trust Management Services Insights
Intentionally Defective Grantor Trusts
August 10, 2023
On this episode of Your Life Simplified, Valerie Escobar , senior wealth advisor, and Jake Kern , managing director...
Tune In
Trusts Offering a Silver Lining in a High Interest Rate Climate
August 2, 2022
Given the current high interest rate environment, you may be wondering whether there are strategies you can employ to...
Read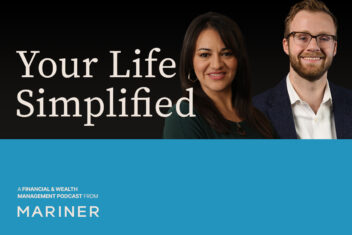 Real Estate Investing Part 2: REITs & ETFs
June 23, 2022
In part 2 of Your Life Simplified's real estate series, Mike Mackelvie , wealth advisor, and Valerie Escobar ,...
Tune In
See all Insights