Overreaction or Budding Buying Opportunity?
March 6, 2020
"You can observe a lot by watching." – Yogi Berra
What a difference a week makes. The past has shown us that the market has the potential to have a Jekyll and Hyde nature within a week's time. To wit, the moment when the market hit bottom in v-shaped fashion on Dec. 24, 2018 and was plummeting due to fears over trade rhetoric with China and the associated fear this would throw us in recession. After a 20%, several week swoon1 that ended on Christmas Eve, the market began its rally on Dec. 26, 2018, and then was off to the races in 2019, posting a robust 31.5% return2 in the face of a sea of negativity in that calendar year.
This time around, the wall of worry headlines center on the evolving coronavirus story. The pullback has been swift and not insignificant. Specifically, the S&P 500 fell 11.76% in the final week of February and is almost 13% below its Feb. 19, 2020 peak. This is being advertised as "the fastest 10% correction in the stock market on record."3 Technically this is true, but such bold headlines are just another example of exaggerating the negative state of the union, in our view. The chart below illustrates that there are quite a few periods of similar, corrective price action in a short period of time, and quite a few of greater magnitude of only modest additional duration, so we would not necessarily view this as historic news.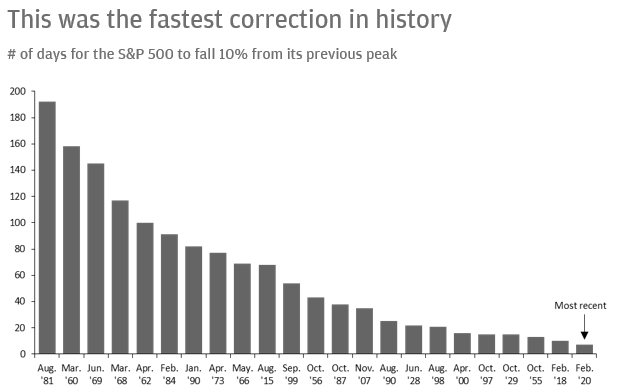 Source: JP Morgan4
In 1987, the market was down over 22% in one day;5 this is not considered in the current headlines, because the market had already corrected 10% prior to that October 1987 day. And, interestingly, the S&P 500 bottomed shortly thereafter and went on to post handsome returns over the ensuing two years6. "It is different this time," is the second phrase that is being used to describe this latest coronavirus market swoon. Actually, this phrase often surfaces to describe what has turned out to be normal market pullbacks during ongoing bull market advances. It was used to describe conditions in 2012, when the market retrenched briefly as the Federal Reserve started to back away from the quantitative easing (QE) it had employed…the Fed had never done this before, and it was said to be unprecedented and dangerous as it unwound these bond purchases.
Similar headlines appeared around Brexit. So many articles were written about the global economic calamity this was to cause in 2016. All of these years, when everything was labeled "different this time" ended up being nice, double-digit return calendar years. I don't want to be glib or dismiss the risks at present, because we are watching them closely but perhaps one lesson I may have learned is to gird for the worst when I go on a ski vacation, or any vacation for that matter.
That's exactly what I did in the last week of February. Other vacations I entertained that coincided with other market swoons included going to Tahoe in February 2018, when President Trump announced his first shot across the bow on the trade front. I will never forget a family beach vacation in August 1998, when the S&P 500 sank 18% during the month…it was eerily reminiscent to the swift retreat in February, though associated with a different type of Asian contagion—falling currencies and frozen credit markets. What all these periods have in common is subsequent recovery from correction in a reasonable timeline based on the still solid underlying long-term fundamentals, which included prudent central bank policy support.
The executive summary here is that, while we do not necessarily expect as swift a recovery in the S&P 500 as the profitable 2018/2019 transition from loss to gain, we do think coronavirus is a transitory issue that is manageable and that we are close to a market bottom. We say this with the caveat that negative psychology and fear can cause markets to overshoot, both on the upside and the downside, so exactly where the temporary damage settles remain uncertain. The bottom line, however, is that the technical and fundamental facts suggest the market is approaching oversold levels, and valuation has become far more attractive…and there were many investors waiting for valuation to become appealing before committing to equities after the outstanding returns in 2019, and the multi-year bull run beginning in 2009 and still going.
We are maintaining our S&P 500 price range target of 3350-3500 and are biased to take this up if current risks indeed prove to be as transitory as we anticipate. We expect heightened volatility and therefore are maintaining a balanced mix in asset allocation rather than more heroic or extreme positioning that some of our peers are trumpeting. We agree with Yogi Berra that you indeed can observe a lot by watching and by listening to the market and the facts to help guide you during times of uncertainty.
Key Points to Guide
The following are key observations and tenets we want to highlight in sharing our thinking around coronavirus, as well as associated and other risks in the market at present:
We have expected and embrace a market pause/pullback (although we are sorry to see it inspired by a global health concern). Quite frankly, it could have been ignited by any number of headline issues…campaign, geopolitical tensions, fallout from impeachment circus, etc. Instead, coronavirus is the item du jour. We believe a pullback is healthy to reset/refresh and set the stage for further advancement in the year. We think the path of the advancement in earnings and the economy will be different than originally anticipated—the first half will be softer than expected and the second half a bit stronger.
It is Important to note that there is a big difference between modest market corrections that are temporary, healthy, quite normal and happen regularly throughout a bull market advance (as exhibited in the red dot corrective periods annually going back to 1980 in the chart below) and bull market tops.
Source: 2020 Crystal Ball
Corrections, or temporary pullbacks, are caused by transitory factors such as short-lived supply shocks and momentary lapses in psychology/investor sentiment versus bull market tops that coincide with sustained surges in unemployment, plummeting earnings and meaningful lockup in the credit markets. What we are witnessing now is the former rather than the latter, in our opinion, and they call for different responses.
It is virtually impossible and, in our view, inappropriate to take significant action in the midst of short corrections…by the time you sell, you are deep into the correction, and by the time the swift recovery begins, one is generally too late to shift into buy mode to benefit. Hence, best to hold positions or make only modest opportunistic adjustments in stock selection. This is far different from bull market tops that are followed by multi-quarter, multi-year, steep market drops that require significant defensive adjustments. We do not see signals of the latter currently. The point is that it is key not to mistake activity for progress. We take action when we think there is true benefit and potential value added.
We take comfort in the fact that fundamentals were improving going into this coronavirus scare…to wit, Q4 2019 earnings are being reported at levels far better than expected (+2.5% overall EPS7 growth versus negative expectations going into reporting season and a better 5% EPS growth result, ex-energy, as declining oil prices caused energy sector earnings to plummet 20%). Payroll growth is stellar, and wage growth decelerated to almost a perfect spot…strong enough to spur spending but not too robust as to crimp margins. Housing is very healthy and a key driver of U.S. growth/continued expansion. We saw bounces in the leading economic indicators, retail sales and even PMI manufacturing data. The same can be said with global data…it was getting less worse or beginning to stabilize/bounce in a number of metrics. The point is, we face the coronavirus headwinds with some tailwinds and momentum rather than various economies running out of gas.
There is a big difference between a temporary supply shock issue caused by a self-inflicted quarantine that creates supply shortfalls and a temporary inability to meet demand that is still there versus an implosion in final demand caused by massive, long-term dislocations in the economy (e.g., surging unemployment, credit market distress, imploding earnings) and imminent recession. What we have here is the former rather than the latter. The former is characterized by a temporary decline in activity, similar to what happens in natural disasters, such as hurricanes or earthquakes. We see v-shaped or u-shaped fallout in the cases just mentioned. Demand falls swiftly due to the disaster but recovers just as swiftly as things stabilize and pent-up demand quickly shows up. This is why we expect a softer first half than originally anticipated but a swifter second half, a la a v-shaped or u-shaped pattern.
There is some positive trend in the coronavirus data itself that seems to be lacking attention. Specifically, the chart below demonstrates that new daily cases reported in China have peaked and have been falling for some time. This is very important. The fact that this country with over a billion inhabitants, and the source of where the coronavirus started, is getting this under control as of this writing, is critical. This is being offset by news of new cases in South Korea, Iran and Spain, as well as in pockets of South America. This news is grabbing all the attention and offsetting the positive trend in China that accounts for most of the cases. We also recognize the risk of global spread, but containment in China is encouraging, and with warmer weather soon approaching, there is no reason to jump to worst-case outcomes.
Source: TrendMacro
Balance is the key today in portfolio positioning, not heroics and that is what we have employed in our investment strategy. Many say, "absolutely go for it" and "buy on the dips." Others say, "no, no, no, this coronavirus scare is different," indicating that you should run for cover and sell all your more aggressive and cyclical holdings. We think such extreme/heroic thinking is off base. We are pleased we have established a nice balance of growth and value and offense and defense in our portfolios. Poise, diversification, measured action and balance are key to success in the midst of this volatile, but still likely positive, trending market.
With regard to measured activity, while we lean toward wanting to view the current pullback as a buying opportunity, we want to be poised in doing so and do not plan immediate, reflexive buying. We respect that the coronavirus situation is evolving, as well as the psychological reaction to it.
Wrap-up
Folks often ask us if we're at the bottom and when is the time to buy. From a purely technical standpoint, there is much to make a long-term investor feel comfortable that we are close. With only 7% of S&P 500 stocks above their 20-day lows, over 90% of S&P 500 stocks down more than 10%, and only 20% of stocks above their 200-day moving average,8 we are approaching oversold levels as a sign of a bottom. But there have been more extreme conditions in these measures historically. Negative emotions and fear can cause markets to overshoot, so we are exercising caution and being measured in employing portfolio adjustments despite being biased to buy on the dips. We take great pride in being both investment managers and wealth advisers.
At times of stress like this, we are asked to be engineers, political analysts, military strategists, technologists and now virologists. We are none of the above. But we do maintain networks and conduct research that provide us with insights into these many areas so we can make prudent judgements on clients' behalf. In this way, we are channeling Yogi Berra…watching and acting accordingly. If things worsen, and the state of quarantine in major economies extends longer than we anticipate, we will let you know and respond in that case appropriately.
Sources:
1S&P 500 Q4 2018
2S&P 500 Total Return FY 2019
3"Nine days later, an unnerving reality has set in. The S&P 500 suffered its fastest-ever 10% decline from an all-time high."
4Should I be concerned about the correction in U.S. equities?
5S&P 500 Total Return October, 1987
6S&P 500 Total Return 09/01/1987 – 12/31/1989
7Q4 2019 EPS Growth
8Percentage of Stocks above 20-day lows, percentage of stocks down more than 10%, percentage of stocks above 200 day averages
The S&P 500 Index is a market-value weighted index provided by Standard & Poor's and is comprised of 500 companies chosen for market size and industry group representation.
This commentary is limited to the dissemination of general information pertaining to Mariner Wealth Advisors' investment advisory services and general economic market conditions. The views expressed are for commentary purposes only and do not take into account any individual personal, financial, or tax considerations. As such, the information contained herein is not intended to be personal legal, investment or tax advice or a solicitation to buy or sell any security or engage in a particular investment strategy. Nothing herein should be relied upon as such, and there is no guarantee that any claims made will come to pass. Any opinions and forecasts contained herein are based on information and sources of information deemed to be reliable, but Mariner Wealth Advisors does not warrant the accuracy of the information that this opinion and forecast is based upon. You should note that the materials are provided "as is" without any express or implied warranties. Opinions expressed are subject to change without notice and are not intended as investment advice or to predict future performance. Past performance does not guarantee future results. Consult your financial professional before making any investment decision.
Mariner Wealth Advisors ("MWA"), is an SEC registered investment adviser with its principal place of business in the State of Kansas. Registration of an investment adviser does not imply a certain level of skill or training. MWA is in compliance with the current notice filing requirements imposed upon registered investment advisers by those states in which MWA maintains clients. MWA may only transact business in those states in which it is notice filed or qualifies for an exemption or exclusion from notice filing requirements. Any subsequent, direct communication by MWA with a prospective client shall be conducted by a representative that is either registered or qualifies for an exemption or exclusion from registration in the state where the prospective client resides. For additional information about MWA, including fees and services, please contact MWA or refer to the Investment Adviser Public Disclosure website. Please read the disclosure statement carefully before you invest or send money.