Not the Time for Heroics…Time to Keep Your Head Down
August 10, 2020
"If you can keep your head when all about you are losing theirs…"
– Rudyard Kipling
Why all the calls for heroics? On both sides of the buy/sell ledger, many have called for taking drastic action in this COVID-19 era. In March, while we were in the thick of initial economic shutdown initiatives to stem coronavirus spread, headlines suggested selling stocks just about the time the equity markets were bottoming, and now that the market has rallied handsomely from that point, fear of missing out (FOMO) and urges to buy are rampant.
Interestingly, while errors can be common in trimming stocks at low levels and buying close to the top, what is even worse is selling close to the bottom and never getting back in. Investors suffer from this latter phenomenon far more frequently than you might think. Many folks made this mistake back in 2009 in the midst of the great financial crisis. They sold and never got back in because of the perceived wall of worry items that felt daunting despite the improving trend in the data but were more emotional in nature. Those that exited in 2009 and never returned, lost out on the longest economic expansion and bull market run in history from mid-2009 until early 2020. Even though this multi-year run took a pause early this year, we don't think it is over. We expect further solid results over the next 12 months, albeit with some rising volatility in the near term.
The costs of poor market timing are shown in the chart below: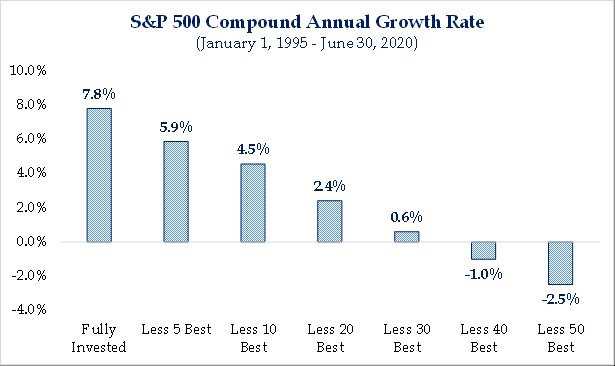 Data Source: Strategas
The data in the chart above shows the annual rate of return in the Standard & Poor's 500 index was roughly 7.8% over the last 25 years, going back to 1995. If one missed only the 20 best days during this 25-year span, that rate of return would have fallen to 2.4%, and if you missed the best 40 of these 6,250 trading days, your annual rate of return would have gone negative. With this set of return info, it is our belief that it's alright to be negative on stocks at moments, but that negativity had better be based on the data. After all, the stock market is up almost 75% of the time.1
If the data is positive and supportive of staying invested at normal allocation levels, so are we. It is the data and fact set that inspired us to keep our clients invested in our market thoughts and recommendations during March and to champion our "hold your ground and upgrade holdings" view. Such strategic thinking stood in contrast to the more extreme advice floating about to sell aggressively as stocks fell 34% peak to trough in March2 and then be burdened and potentially unsuccessful in trying to convince investors to buy aggressively as stocks recouped most all of those losses in short order in the second quarter.
This latter approach is very difficult to execute. If it is not done flawlessly, it can be very ineffective and destroy wealth. Our objective was to keep investors from suffering from whiplash and costly head fakes. After all, Q1 was the worst first quarter performance in the S&P 500 since 1938 while the second quarter marked its best quarterly return in general since 19983. If an investor sold in the eye of the storm and stayed out, significant wealth vanished. The supposed bear market was over in a matter of weeks and now we are roughly flat for the year, trading within spitting distance of all-time highs in the S&P 500 established in February, and are up by double digit levels over the last 12 months.
Bottom line: We're pleased we maintained this hold your ground view and avoided the risks of taking heroic action. A July 22 newsletter published by the firm founded by (in my opinion) one of the world's greatest stock investor's, Bill Miller, was entitled, "Extreme Times Call for Nothing Extreme at All" as a bit of a satire associated with the old adage that "Desperate Times Call for Desperate Measures". We couldn't agree more with Bill and his crew regarding this satirical view at present. This has been, and continues to be, a time to think like Rudyard Kipling and "keep your head while others seem to want to lose theirs."
The Data Says…Continue to Hold Your Ground
We are often asked if we have changed our view. Questions like "Shouldn't we fade this rally?" or "Aren't we on the precipice of resuming a multi-year run and should be buying?" or "Shouldn't we be selling growth stocks and buying more cyclicals?"
Our adage is to not mistake activity for progress. We try to ensure, through our disciplined research process, that all of the investment decisions are data driven and fact based. That's what drove our buy on the dips message in advance of the 31.5% run in the S&P 500 in 20194 when much of the world was pessimistic. It is also what inspired us to currently adopt a more cautious near term (next 2-5 months), yet positive longer term (6-12 months) view and to maintain our hold your ground recommendation.
Specifically, the data we reviewed to come to this conclusion includes analysis of the fundamental, valuation and technical price trend metrics. Our view on these data points is shown in the table below.
All three are neutral at present, with the majority of these components trending in a better direction on a shorter-term basis after deteriorating in that tough late Q1/early Q2 period. They improved markedly in May and June before plateauing a bit in late July as consumers and investors looked to see how the coronavirus surge in certain states plays out.
Regarding the fundamentals, economic data fell off a cliff in Q1, but has bounced significantly in Q2 with positive trends in retail sales, home sales, manufacturing and service sector activity, amongst other items. Similarly, earnings collapsed in Q1, but have stabilized and estimates for both 2020 and 2021 are beginning to rise again. Credit spreads rose sharply in March but have since fallen and stabilized at solid levels. Inflation and rates remain at low and supportive levels and the Federal Reserve is accommodative.
Collectively, the fundamental data looks neutral to us. We are well below pre-coronavirus levels in these factors, but things have improved in measured fashion. On valuation, P/E's have risen to 22 times forward earnings5, but, on the other hand, stocks look very attractively priced when you look at their earnings and dividend yields versus bond yields…hence a neutral rating on valuation as well. The technical price trends are far better than advertised. While the press will try and make you believe that only four stocks are going up in price—the so-called FANG stocks—actually, the number of stocks in positive price trend are quite broad and healthy. The fact is that the number of stocks advancing versus declining just hit new highs.
When we mix all of this data and analysis together, the fundamentals, valuation, and the technicals, we come up with an overall neutral- to slightly-positive rating on the market. To us, this says that investors shouldn't trim their equity exposure, but shouldn't aggressively increase their stock exposure either. Hold your ground is still our mantra for the moment! We maintain our 3500 S&P 500 price target by mid-2021 (which is about a 9% return from current levels hovering around 3200). We respect the fact that the uncertainties at present could cause around a 10% near term pullback at any moment before we see that 3500 level.
On growth versus value, we wouldn't be heroic either. We do not advise adopting extreme views that some of the experts are suggesting. Good growth stocks in technology, consumer discretionary and healthcare are very appealing when the economic growth remains overall challenged, but is trying to grind its way back. Secular growth stock, that have better business models/mouse traps that are not so tethered to absolute levels of GDP growth, but to their own innovation and end markets tend to shine. And there are many other examples of this besides FANG stocks, so we continue to embrace them. There is no reason to abandon growth. At the same time, some exposure to cyclical stocks in the industrials and materials areas is appropriate…commodity prices have risen significantly over the last 3 months. We want to see this continue before becoming more constructive on value. We believe a nice blend of growth and value is appropriate versus more extreme positioning in either direction.
What About the Risks—The Wall of Worry
The four key current risks, per major investor surveys are:
Potential COVID-19 spread
The outcome of the presidential election
U.S. relationship with China
Stimulus programs and the impact of growing fiscal debt
We think each of these issues will be managed with good result. Interestingly, the first two listed above are on more on investors' minds at present. Election concerns actually outweigh COVID-19 spread concerns in some major surveys. Without going into significant detail on coronavirus risk, our base case does assume that we can bend the curve at year end without shutting down the economy. Nationally, the number of daily cases has begun to stabilize a bit in the last week and we see a mix of states where cases are ebbing as well as states where cases are rising. We will follow this closely. We are comforted that news flow on a vaccine is very encouraging with several major companies beginning late-stage phase 3 trials on the heels of good results in earlier phase I and 2 studies. This is a big deal.
On the election, it does look like the probability of a democratic sweep of both Congress and the White House is more likely as seen in the charts below. This potential for major policy change will cause some angst. It is because of this, we are more cautious near term.
Wall Street's fear is that Biden's proposed corporate and personal tax hikes will go into effect and dilute S&P 500 earnings growth if both the White House and Congress are controlled by the Democrats. What we think is missing here is that Biden is also a big proponent of infrastructure spending, supports an increase in the minimum wage and is softer than current leadership on imposition of tariffs. All of these latter positions are stimulants and largely offset the proposed tax hike ideas. The point is that eventually, folks should see that the ultimate impact of a sweep is better than feared and should trade on these fundamentals that remain solid. Note in the charts above that the S&P 500 does prefer split leadership and gridlock in Washington, but that historically absolute returns have been positive and quite solid in years when Democrats have led in sweep fashion. This is not a political statement, just facts and data.
Wrap-up
Keeping your head while others are losing theirs is a good idea in life, let alone in the stock market. We attempt to remain thoughtful and objective by staying glued to the facts. They continue to take us to that "hold your ground" place.
Sources:
1 Centre for Research in Security Prices
2 FactSet
3 Reuters; https://www.reuters.com/article/usa-stocks/us-stocks-sp-500-heads-for-worst-first-quarter-since-1938-idUSL4N2BO46I, https://www.reuters.com/article/us-usa-stocks/sp-500-ends-best-quarter-since-1998-on-a-high-note-idUSKBN2411QH
4 FactSet
5 FactSet
The S&P 500 Index is a market-value weighted index provided by Standard & Poor's and is comprised of 500 companies chosen for market size and industry group representation.
This commentary is limited to the dissemination of general information pertaining to Mariner Wealth Advisors' investment advisory services and general economic market conditions. The views expressed are for commentary purposes only and do not take into account any individual personal, financial, or tax considerations. As such, the information contained herein is not intended to be personal legal, investment or tax advice or a solicitation to buy or sell any security or engage in a particular investment strategy. Nothing herein should be relied upon as such, and there is no guarantee that any claims made will come to pass. Any opinions and forecasts contained herein are based on information and sources of information deemed to be reliable, but Mariner Wealth Advisors does not warrant the accuracy of the information that this opinion and forecast is based upon. You should note that the materials are provided "as is" without any express or implied warranties. Opinions expressed are subject to change without notice and are not intended as investment advice or to predict future performance. Past performance does not guarantee future results. Consult your financial professional before making any investment decision.
Mariner Wealth Advisors ("MWA") is an SEC registered investment adviser. Registration of an investment adviser does not imply a certain level of skill or training. MWA is in compliance with the current notice filing requirements imposed upon registered investment advisers by those states in which MWA maintains clients. MWA may only transact business in those states in which it is notice filed, or qualifies for an exemption or exclusion from notice filing requirements. Any subsequent, direct communication by MWA with a prospective client shall be conducted by a representative that is either registered or qualifies for an exemption or exclusion from registration in the state where the prospective client resides. For additional information about MWA, including fees and services, please contact MWA or refer to the Investment Adviser Public Disclosure website. Please read the disclosure statement carefully before you invest or send money.