It's That Time Again to Put It On the Line…Our Call for Continued Gains in 2020. Cheers!
January 6, 2020
"Resist the urge to trade against the consensus too early. The consensus may be wrong at major turning points, but it is right and can remain right for long periods in the midst of a great move."
-Well-known Investment Strategist, Dennis Gartman
Executive Summary
How Sweet It Is! That catchy phrase coined by the famous comedian, the late Jackie Gleason, could be used to describe the stunningly positive S&P 500 returns in 2019, as well as the robust, compounded annual returns in that same benchmark for the entire decade ending 12-31-19. It's puzzling that, in the aggregate, investors have been selling stocks ever since things began to improve and recover over a decade ago and many have not participated in the profits.1 Eerily similar to the negative sentiment we saw back in 2009, when the multi-year recovery in stocks began out of the ashes of the housing implosion and financial debacles in 2007/2008 (known as The Great Recession), investors were almost equally crabby and fearful going into calendar 2019. They were bombarded with headlines such as "Worst December Since 1931" during the 2018 Holiday Season and were warned by many in the financial press to expect recession and doom and gloom equity results in 2019. Instead, they got stellar returns…to wit, almost a 30% return in the S&P 500 in calendar 2019, which is the best outcome since the 2013 32% advance.2 Furthermore, virtually every other asset class did well this past year…not as well as the S&P 500, but they still posted handsome gains. This includes international stocks, gold, and even bonds.3 We're pleased to say that we were boldly contrarian and positive at the outset of 2019, when many were so pessimistic. We looked for moderating economic and earnings growth but certainly not recession and negative earnings that many called for. We thought S&P 500 valuation at 14 times earnings, as we approached January 2019, was a bargain that would translate into healthy 20%-plus gains for the index in calendar 2019, as economic and earnings results and policy outcomes would be better than feared.4 We were very vocal about this, whether you revisit CNBC interviews just before Christmas 2018, or our Crystal Ball Outlook that we made available approximately one year ago. These strong results we expected are indeed what we got. We take pride in having conviction in our investment opinions and outlook, as opposed to some of our peers who water down stock return predictions to essentially single-digit gain expectations each and every year. In fact, we've taken a very contrarian view the last several years, because we felt the data strongly supported going against the crowd. While 2019 is a great example of us questioning the consensus view, 2016, 2017 and 2018 are other good examples.5 We were quite positive in 2016 and 2017 and looked for double digit S&P 500 returns in those years when quite a few experts were calling for much more subdued outcomes. We believed these folks were overly worried about the headlines of plunging oil prices, Brexit, and the economic pitfalls of a Trump victory in November 2016…rather than focusing on the actual hard economic data. We felt accelerating earnings growth and a solid consumer would carry the day and lead to above average equity returns in those years, as they did. In 2018, when strong earnings growth was finally visible to all and boosted by tax cuts, we thought P/E multiples would contract and we would likely see sub-par returns in U.S. equities that year…as we did. Then, of course, our against-the- grain, positive view in 2019 stood out a bit. So, this begs the question…are we contrarian again about 2020 when the crowd is expecting positive but not spectacular returns and sentiment has turned much more confident? The short answer is no. We remain positive about equity results, and we are more in line with consensus thinking this year. We're not apologetic about our view. This year, much like consensus, we look for solid, not robust, single digit returns for large-cap U.S. equities. Unlike previous years when our call for U.S. equities to outperform international stocks was counter to the crowd, we do believe international stocks (and U.S.-based stocks with significant international exposure) could have a nice relative showing this year. More Crystal Ball details follow below.
Our Crystal Ball 2019 Outlook—A Quick Review
We certainly could have done some things better in 2019, but in the aggregate we are pleased with the outcome of our major calls and decisions. With regard to major elements of our Crystal Ball outlook and things we got pretty correct last year:
We called for robust, double-digit returns and believed the total return for the S&P 500 could approach 25% (Actual results: S&P 500 advanced roughly 30%)6
We believed U.S. stocks would outperform international stocks (Actual results: S&P 500 well outperformed international with developed international stocks up a lesser 22.7% and Emerging Market equities up only 18.9%)
In our research, we concluded that the U.S. economy would not go into recession and earnings would not turn negative as many predicted (Actual results: GDP growth estimated to average 2.3% growth for 2019 and S&P 500 earnings grew roughly 1%)
We felt the body of evidence called for better than worst-case outcomes with regard to the Federal Reserve and on the tariff war front with China (Results: The Fed pivoted and cut rates 3 times in 2019 to support economic growth and the United States and China have reached an agreement in principal to sign a phase one trade agreement; the USMCA trade pact with Mexico, Canada, and the United States was approved in the House in late 2019)
We believed a blend of growth and value stocks, rather than a decided tilt to defense, would be appropriate positioning (Russell 1000 Growth and Russell 1000 Value are both hitting new highs)
In terms of what we could have done better…we did not see the significant plunge in U.S. interest rates emanating from fears about the potential impact of the trade and tariff discussions, but there was no ill effect in our fixed income positioning as absolute fixed income returns were solid. Within equities, we were a bit early in our expectations that cyclical stocks would rally and move to new highs. But again, we were not heroic in this regard and called for a blend of growth and value throughout the year.
Our Crystal Ball 2020 Outlook—Essential Points in a Single-Digit Return Outlook
Per Barron's "Up and Down Wall Street" article (Dec. 23, 2019, issue), the crowd seems to be in a much better mood this year versus this time last year. Specifically, in support of this assertion, they site such things as CNN's Fear and Greed Index, The University of Michigan's Consumer Confidence readings, and Investor Intelligence's Bull versus Bears data. In the case of the CNN Fear and Greed Index, it currently stands at 91 out of 100 versus a level of only five just 12 months ago. U.S. Consumer Confidence is hovering near 2019 highs of 99 as of December. And the bulls minus bears data approximates 40%, which historically is an optimistic reading. Bottom line, we think there is good reason for positivity going into 2020. Releases of fundamental data at year-end were very solid. The November payroll report of more than 250,000 new jobs generated in the month in the United States brought the three-month average monthly new jobs data to a robust figure of over 200,000.7 This was complemented by solid U.S. data regarding holiday spending for retail sales, record low unemployment claims8 and strong housing data, to name a few. Even the international data out of Europe, Japan, and China show important signs of stabilization. Couple this with still reasonable valuation measures for such low levels of interest rates and inflation, very impressive technical price trend metrics and good news on the policy front—a strongly accommodative message from the Fed, and solid improvements on the trade policy front with China, Canada, Mexico, and perhaps even Europe and Britain—and this is a nice cocktail to support the more positive consensus tone going into 2020.
Hence the quote above that points out that it only pays to be contrarian when the facts and the data don't support the consensus view…that is, only when it looks like we are at an inflections point, and the crowd has it wrong…like we sensed in these previous moments such as 2016-2019 highlighted above. We think the consensus has it right this year… that market returns will recouple with earnings growth this year after decoupling in 2018 and 2019. In 2018, earnings growth accelerated to over 20% and yet the S&P 500 declined roughly 5%.9 Folks were worried about Fed mistakes and trade wars and believed earnings had peaked as a result of such policy errors, so multiples contracted throughout the year, and returns were negative….despite stellar earnings growth. In 2019, valuation had compressed too much, and it took a while for investors to realize that earnings growth may have peaked, but earnings and the economy had not. The expansion moderated but wasn't over, and recession fears were overblown. As a result, multiples expanded sharply as earnings growth only slowed rather than turn negative…and it turned out to be a great year in stocks. This year we think earnings growth, which is expected to be high, single digits, and stock market returns will recouple…hence the "single-digit return" mantra.
The table below shows that we assign a 75% probability that the S&P 500 will end calendar 2020 at a range of 3,350-3,500 for total return potential of mid- to high-single digits. This is based on an approximately 2% GDP economy and mid- to high-single digit earnings growth that is highly dependent on the U.S. consumer…still. So the bar is not set exceptionally high…we expect continued steady data. We reserve the right to increase these expected S&P 500 levels to higher points if continued improvements on the trade front inspire additional CEO confidence and an associated rise in capital expenditures.
What About That Wall of Worry?
It's still there, and we embrace it! Only when it vanishes do we really worry. The existence of the wall demonstrates that investors remain respectful of risk. The table below illustrates the items that might cause folks to wring their hands in 2020.
We believe most of these are quite manageable and moving in the right direction. As for one of the big ones…can the market repeat success after a 30% year in 2019? The historical data is very comforting! As you see, in the table below, years in which the S&P 500 are up more than 20% are, on average, followed by above-average returns in the ensuing 12 months.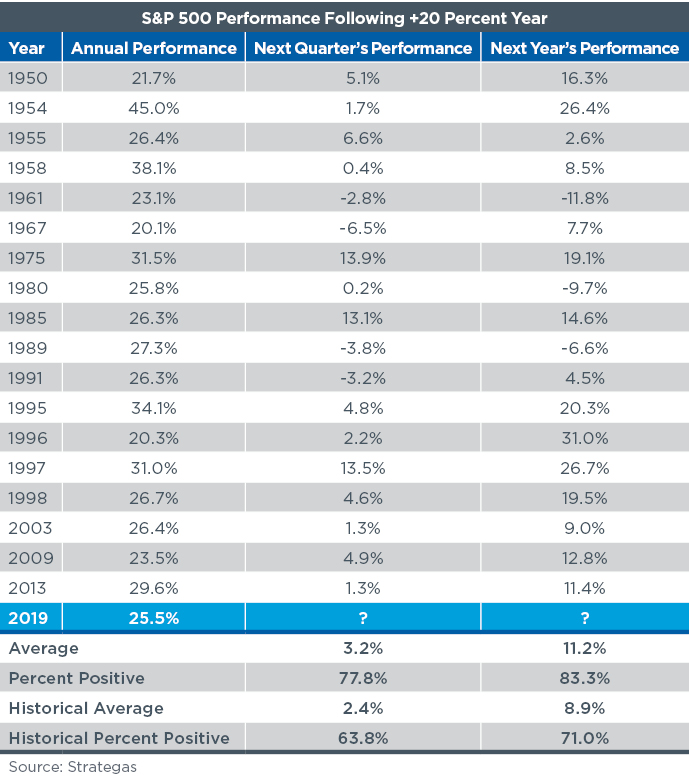 We believe the positive trends in policy and fundamentals support positive returns in 2020, as well. We also need to mention that it's misrepresentative in our view to suggest that stocks are elevated simply because returns were so good in 2019 and that, therefore, by definition, there's no more room to continue to advance in 2020. In our view, 2019 just got us back to where we should be after that painful 20% intra-month decline in the S&P 500 in December 2018. In fact, annual compounded returns in the S&P 500 since January 2018 through year end 2019 were only approximately 12% per year,10 which is actually below the historical average since 2009 when the recovery began. So returns have not been excessive these past several years.
As for other anticipated headlines in 2020…yes, the election rhetoric will get outlandish and cause angst, but even election years tend to be solid based on historical data. Generally politics have sustained negative influence on returns only if elections lead to dramatic shifts in policy…which is quite unlikely unless there is a one-party sweep in all three chambers of government, which we believe is quite unlikely at this point.
Conclusion
We're sticking with the facts, not the fickle headlines, in establishing our outlook for 2020. The facts are quite good. I'd like to close with a recent quote of Peter Lynch. He recently said to a financial reporter, "The thesis underlying everything, whether you are an active managed fund or a passive fund, is that the U.S. will be OK. If you don't believe that you shouldn't be in the stock market." We think the United States will be OK in 2020.
Footnotes:
1 Yardeni
2 FactSet
3 FactSet
4 Mariner Wealth Advisors
5 Mariner Wealth Advisors
6 Mariner Wealth Advisors
7 Bureau of Labor and Statistics
8 Federal Reserve Bank of St. Louis
9 FactSet
10 FactSet
The S&P 500 Index is a market-value weighted index provided by Standard & Poor's and is comprised of 500 companies chosen for market size and industry group representation.
The Russell 1000 Value Index is the largest 1,000 value stocks by market capitalization. Value is determined by Book-to-Price ratio (B/P).The Russell 1000 Growth Index is the largest 1,000 growth stocks by market capitalization. Growth is determined by the I/B/E/S earnings growth rate two-year forecast and sales-per-share five-year historical sales.
This commentary is limited to the dissemination of general information pertaining to Mariner Wealth Advisors' investment advisory services and general economic market conditions. The views expressed are for commentary purposes only and do not take into account any individual personal, financial, or tax considerations. As such, the information contained herein is not intended to be personal legal, investment or tax advice or a solicitation to buy or sell any security or engage in a particular investment strategy. Nothing herein should be relied upon as such, and there is no guarantee that any claims made will come to pass. Any opinions and forecasts contained herein are based on information and sources of information deemed to be reliable, but Mariner Wealth Advisors does not warrant the accuracy of the information that this opinion and forecast is based upon. You should note that the materials are provided "as is" without any express or implied warranties. Opinions expressed are subject to change without notice and are not intended as investment advice or to predict future performance. Past performance does not guarantee future results. Consult your financial professional before making any investment decision.
Mariner Wealth Advisors ("MWA"), is an SEC registered investment adviser with its principal place of business in the State of Kansas. Registration of an investment adviser does not imply a certain level of skill or training. MWA is in compliance with the current notice filing requirements imposed upon registered investment advisers by those states in which MWA maintains clients. MWA may only transact business in those states in which it is notice filed or qualifies for an exemption or exclusion from notice filing requirements. Any subsequent, direct communication by MWA with a prospective client shall be conducted by a representative that is either registered or qualifies for an exemption or exclusion from registration in the state where the prospective client resides. For additional information about MWA, including fees and services, please contact MWA or refer to the Investment Adviser Public Disclosure website. Please read the disclosure statement carefully before you invest or send money.